Many of us have proxies needs, but not everyone is willing to spend money on them. So we've recommended some of the best free proxies providers for you. Let's start!
With free proxies, you never know who is in the middle between you and the web. You might think that a proxy survey is safe and will only make your connection secure, but a lot of the time, this couldn't be further from the truth. Using them is risky, yet, as with all free things, the demand for them never dies off.
That's why I'm here to bring you a list of top proxy providers that offer free ip lists and providers that provide a safer option. Free proxy plans make sure to stick to the end. For those, the free lists are collected by scanning the web for computers with open connections and work best with web scraping tools and automation software. And other apps, of course, you can also use solely for anonymity purposes.
However, don't expect too many free list IPs that are often slow and unstable and don't stay online for long. Free proxy plans are safer but limited, so they work best for one-off tasks. Let's start with the free ip list providers.
---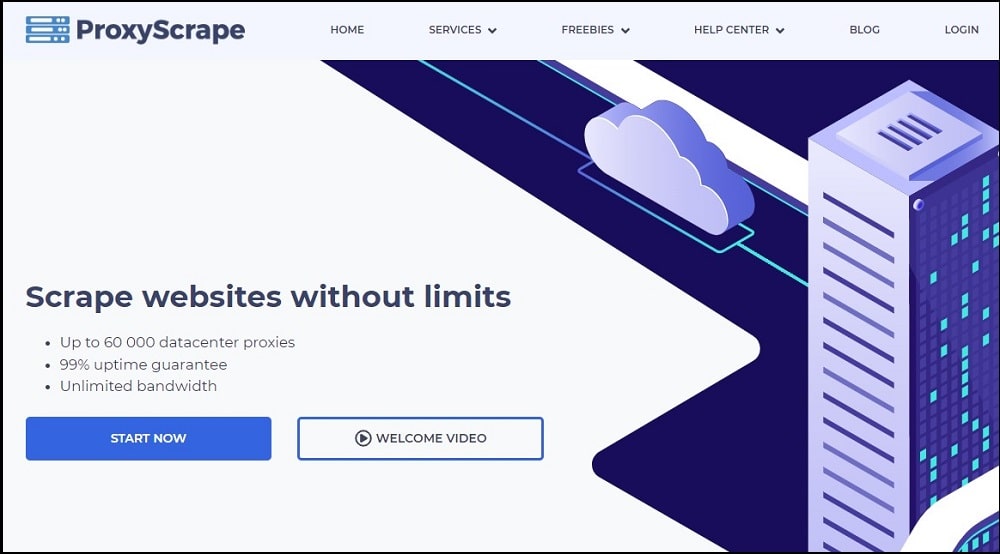 Proxyscrape enables you to choose from lists based on their protocol: HTTP, Socks4, and Socks5. They range from 200 to 2000 ips which isn't a lot. That's because proxy scrape updates the ips every five minutes to filter out the dead ones you can—the list by speed, location, anonymity level, and encryption status.
Unlike some other websites, Proxyscrape offers great exporting options. You can download the filtered list to a text file or use the provided API free of charge. The downside is that you can't see the actual list before exporting it, while frequent refresh times should ensure live ips. You have no way to know, if they'll stay online as there are no uptime metrics.
---

Freeproxy.cz is a long-standing and one of the most feature-complete proxy lists. It offers over 5000 ips from more than100 countries. Of course, some of them only have a few addresses. But major locations like the US includes hundreds.
The website lets you filter proxies by protocol location and anonymity. You then receive 35 ips per page with additional information about their response time, speed up time, and when they were last checked. You can sort each parameter. The uptime metric is especially useful as the ips are checked infrequently every 6 hours or longer.
---

Spys.one is another old-timer that's still up and running it offers one of the most extensive proxy lists. We've seen over 28 000 proxies in around 160 countries. The proxies are updated at different times, so some will be checked a few minutes ago, while others will have stayed there for over a year.
Spys.One lets you filter the ips by parameters like protocol anonymity and location. It also includes smaller filters such as city ASN squid and micro tick proxies. You have several ways to narrow down the ips. It would help if you had the simplest tabs at the top of the page. Each address has additional information, such as its latency up time and the date.
It was checked despite its size and wealth of options. Spys.One isn't the easiest proxy list to work. While you can choose to show between 30 and 500 ips there's no pagination, so you're never sure how many addresses there are in total also, you can't sort the columns, and you have no way to export the proxies in bulk, so there's a lot of hands.
---

Picking involved HideMy.name is a vpn provider that also offers a list of free proxies. It constantly has around 10 000 proxies in over 60 countries. To our surprise, Armenia, Belize, and Curacao were the main countries.
You can filter the list by location protocol and anonymity. The list also shows the ip's speed and when it was updated. It's nice that you can have several toggles, for example. Include both anonymous and elite addresses the list refreshes pretty frequently. When we last checked, the newest proxies were updated a minute ago, and the oldest ones were around four hours prior.
The biggest issue is getting the list out of the website. You can export them in multiple ways, but only after paying five dollars; that's one way to monetize now.
---

Let's move on to the providers that offer free proxy plans, and the first recommendation is Razorproxy. Though it's a private proxy provider, Razorproxy provides a free plan. The plan lets you access 40 000 shared datacenter ips in the US.
The provider's proxies will be faster and more stable than any public address. In addition, they automatically rotate, so you won't need to manage a proxy list by hand. We only wish it'd be a monthly and not a one-time deal. With Razorproxy's free plan, you get 2 GB of data without other limitations, which is pretty generous. This will require filling in a form. If you enjoyed the service, you can upgrade to a paid plan once the traffic runs out.
---

Webshare offers 10 static datacenter proxies from four different locations. These IPs are private, which ensures predictable uptime and performance.
The provider gives you the option to rotate this list, though. I'm not sure how much good that would do with so few IPs. The catch is you get 1 GB of traffic per month with a max of 50 parallel threads.
Don't hesitate to click those links in the description to explore all of the mentioned providers yourself!